26. School lunches are an access point of great power: they reinforce or remove the unhealthy products we consume.
Kate Adamick, co-founder of Cook for America® and author of Lunch Money: Serving Healthy School Food in a Sick Economy.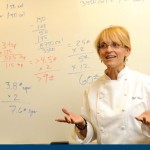 Over 50 million children attend public elementary and secondary schools in the United States; nearly 5 million more attend private schools. In other words, we send nearly 20% of our national population to school every day to learn how to function as adults and contribute to the wellbeing of our country.
Yet, while we spend so much time, energy, and money attempting to guarantee that the next generation of Americans will be able meet minimum standards of proficiency in reading, math, and science, we do very little to ensure that they will grow up to understand the link between their health and what they eat. Even in schools that teach nutrition classes and have school gardens, the relationship between the cafeteria and the classroom is often nonexistent. And when school cafeterias are filled with pre-packaged, highly processed products high in sodium, fat, sugars, and artificial colors and preservatives, our children learn to feed themselves in ways that can make them sick.
It is a shocking fact of modern life that childhood obesity in the United States has more than tripled since 1980. According to the New England Journal of Medicine, this generation of children will have a shorter life expectancy than its parents because of diet-related illness. This same prestigious, peer-reviewed journal has also reported that obese children tend to be socially isolated and have high rates of eating disorders, anxiety, and depression, and that — when they reach adulthood — they are less likely than their thinner counterparts to complete college and are more likely to live in poverty. Other studies show that the more overweight a child, the more likely he or she is to be absent from school, and that overweight or obese children have poorer academic outcomes.
The consequences writ large of such dire facts and frightening predictions range from crippling national health care costs to compromised national security, and on an individual level include immeasurable and unnecessary physical and emotional pain.
For decades, the idea that we deserve a break today — and every day — was not to be questioned, and convenience became the lynchpin of nearly every decision we made regarding our meals, including those served in schools. Sadly, today we are faced with overwhelming evidence that our quest for convenience is compromising the health and wellbeing of our most precious resource — our children.
One of the biggest myths in the school food reform movement is that if we cook healthier food "the kids won't eat it." The happy reality, however, is that most students are proud when their schools serve healthy, scratch-cooked meals. Kids are delighted to make their own selections from salad bars overflowing with fresh produce, and can be heard in cafeteria lines shouting, "Roast chicken with bones! I love roast chicken with bones!"
Of course, it is also true that some children will never eat anything new. Sometimes so-called "fussy eaters" are simply exerting control, and sometimes their sensitive pallets have not yet become accustomed to taste sensations more familiar to adults. Regardless, it's important to remember that children don't stop learning just because it's lunchtime. What and how students are fed at school teaches them how to think about food, what to think of as food, and how to behave while consuming it — all lessons they will carry with them for the remainder of their lives.
Yet responsible, and even overprotective, adults unintentionally place children directly in harm's way in the cafeteria even though they take great care to avoid danger elsewhere on school grounds. Do coaches give kids the choice between playing in the gymnasium and playing in traffic? Do principals put beer kegs next to the water fountains in the school hallways? Do teachers allow teens in English class to read pornography magazines in lieu of the classics? Why, then, do we feed our schoolchildren over-processed, chemical imitations of real food that, over time, can lead to serious illness and premature death?
The cause of this dangerous paradigm in America can be traced back to a confluence of events in the 1970s that sent our food system in the wrong direction: the nation was struggling through a recession, food prices were soaring, federal commodity crop subsidies were changing, and fast food chains — and their accompanying full-color television ads — were becoming ubiquitous. As a result, the perception — and ultimately, the definition — of food changed for most Americans. With the USDA in the untenable position of serving two masters — the food manufacturing industry and the children who are fed through the National School Lunch Program — it wasn't long before school meals became little more than processed food-like substances wrapped in space-age packaging decorated with popular cartoon characters and purporting to be "new," "improved," and "better for you." With so much external pressure to embrace mindless eating, it's no wonder that many of us are reluctant to fight the battles with our children over how they're fed.
But nearly every child in America eats at least one meal a day at school nearly half the days of the year. That gives us a captive audience, not only to feed in a healthful manner, but to teach how to feed themselves in a healthful manner throughout their lives. That is an opportunity that we have nowhere else in our society. Our challenge as a nation is to commit ourselves to take advantage of that opportunity by making an inviolable commitment to serving healthy scratch-cooked school meals from whole, fresh foods, and to teach our children that real food doesn't come with a label.
Unfortunately, our children can't afford to wait for our nation's policymakers to turn their attention to them. As a result, parents and school administrators need to make school food reform a priority. The first and most important change that must be made at each school district is one of attitude. As Henry Ford once said, "Whether you think you can or think you can't, you're right."
Get our emails
News, case studies, tips, and data on Health Rosetta style benefits and our mission to scale healthcare's fixes.