45. An individual can be engaged with their own health without entering the health system at all.
Hugo Campos, Stanford Medicine X ePatient Advisor, White House Champion of Change for Precision Medicine.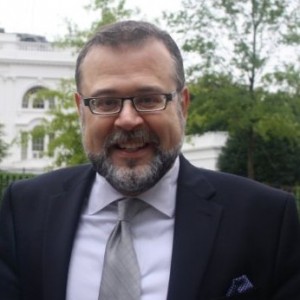 On January 30, 2015, I watched with excitement the live video stream in which President Barack Obama announced a $215 million investment to expand our country's Precision Medicine Initiative. The National Institutes of Health (NIH) defines precision medicine as an "approach for disease treatment and prevention that takes into account individual variability in genes, environment, and lifestyle for each person."
It's subtle, but the emphasis on prevention speaks volumes. It says the best health care is the care that never needs to happen. As a person living with familial hypertrophic cardiomyopathy (HCM), a genetic cardiovascular disease that puts me at risk for sudden cardiac death, the president's announcement was welcome news. HCM affects an estimated one in 500 people and is the most common genetic heart condition in the United States. It is also the leading cause of sudden cardiac death in people under the age of 35.
New precision medicine approaches to treat HCM are already underway. These unprecedented treatments hold the promise of stopping—and potentially even reversing—the course of the disease. This gives me great hope for the future, but if we hope to usher in a new era of personalized medicine, we must first liberate our health data. This has been the focus of my advocacy.
Ever since receiving an implantable cardioverter-defibrillator (ICD), a small electronic device designed to deliver a shock to the heart in the event of a deadly arrhythmia, I have sought to liberate the data collected by my implant. As helpful as it is to a physician, the data collected by the ICD is mostly useful to the patient living with the condition, if he hopes to engage in his care and take responsibility for his health. This data could be used and reused for research as an example, or could be used to better analyze and predict how my body responds to a wide variety of circumstances.
However, under the current care model, data from implanted cardiac devices (such as pacemakers and ICDs) is inaccessible to patients. This must change.
The Health Insurance Portability and Accountability Act (HIPAA) gives patients the right to access their medical records. But while patients can obtain copies of the reports generated from the ICD, the electronic data remains siloed away and out of their reach. This forces patients to take a passive role in their care and discourages engagement.
We must reconsider this and other outdated practices that are obstacles to precision medicine.
During President Obama's announcement, he also stated that in order for precision medicine to realize its full potential, we must create tools that give patients the ability to get involved. "We want every American, ultimately, to be able to securely access and analyze their own health data so that they can make the best decisions for themselves and for their families," said President Obama. It was music to my ears.
I took the President's words as a call to free our health data so we can use it to improve our health and that of our fellow Americans—"data liberacíon" as Todd Park, former Chief Technology Officer of the United States, would say. If we have access to our data, we have the freedom to act on it in our own best interests.
As patients, we must secure access to our health data, have the opportunity to learn from it, and the freedom to share it with whomever we wish, including donating it to research for the public good. Freeing the data will also enable patient activation and promote individual responsibility, and it will clear our path to precision medicine. As Americans, we deserve this.
We go to the health system for answers and for data. Developing answers for ourselves relies on data from ourselves of past experiences. Distinguishing between clinical data and personal serves to keep individuals tied to the health system, but the best health means remaining outside of it.
To get to precision medicine, we must create a place for our data to live that is controlled by us, not by some third party. We must own our data. The health system of the future must seek to enable access to data and health, not hold them hostage. We seek to be free of the health system until it's absolutely necessary to get help, not enslaved to it to care for ourselves.
Get our emails
News, case studies, tips, and data on Health Rosetta style benefits and our mission to scale healthcare's fixes.