Amazon Review Guide
Thank you for contributing to the success of The Opioid Crisis Wake-up Call and the larger Health Rosetta mission. Your time and thoughts are valuable to us, leaving an Amazon review will take 5 minutes or less, and is a critical piece in advancing the movement!
1. Get a copy of the book
It's best if the book was bought on Amazon.com or through a Free Kindle Day. If you bought it elsewhere or were gifted the book, please see the steps at the bottom of this page.
Get the Book
Gifted the Book?
2. Head to your Amazon Order History
After you have the book.
3. Find your order, then click "Write a product review"
If you're addicted to Prime, this might take a while. It will look like this.

4. Draft your awe-inspiring prose and click "Submit"
It will look like this. Notice that we're subliminally suggesting our favorite number of stars.
Important Note: Please do not include any URL's in your review, Amazon will reject your review and you will not be able to submit again for this book.
The review can be as short or as long as you'd like. Here are some template reviews.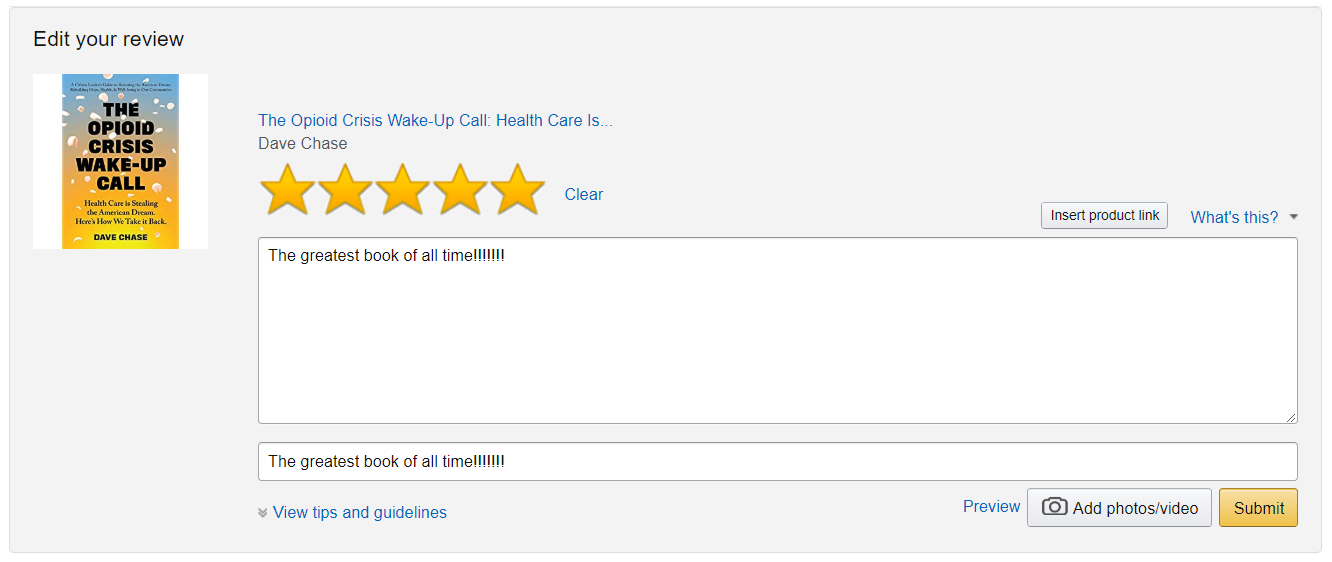 You should see a confirmation like this.

Directions if you were gifted the book or obtained it elsewhere
1. Go the book page and click on link to Customer Reviews immediately below the book title

2. Click on the "Write a customer review" button and fill out the review form and click Submit

Get our emails
News, case studies, tips, and data on Health Rosetta style benefits and our mission to scale healthcare's fixes.