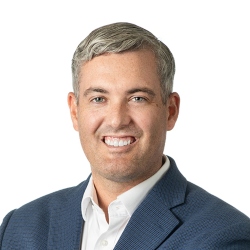 Ben Conner
Benefits Advising
"After graduating with a degree in finance from Indiana Wesleyan University in 2006, Ben signed on with Conner Insurance as an insurance advisor. Using his strengths in strategic planning, finance, and communication, Ben's exceptional vision and execution with his clients led him to be recognized as a top advisor in both the firm and the Indiana insurance industry. By his late 20's, he had been hired by some of the largest and most reputable privately held and publicly traded companies in Indiana.
Because of his outstanding efforts, Ben was promoted to CEO in 2013. In 2015, Ben Conner and his business partners acquired Conner Insurance from the previous owners. In the 14 years since the joining the firm, Conner Insurance has retained 90% of its clients, the firm has grown 3x, Conner has tripled their number of insurance advisors on staff, and the firm has grown the average customer size by more than 10 times, positioning the firm as one of the highest-growing and most trusted consulting firms in Indiana. Utilizing his leadership, work ethic and expertise, Ben's benefits clients have experienced best in class national results in managing their health plans. Eighty percent of Ben's clients have experienced flat or reduced healthcare expenses over the last 5-10 years, which is unheard of in the benefits healthcare industry.
Through his guidance and focus on workplace culture, Conner Insurance was recognized as one of the 100 Healthiest Workplaces in American in 2014, 2015, 2016, and 2017. Conner Insurance was also named the Healthiest Employer in Indiana in 2016, and was a finalist in 2012, 2014, and 2015. Additionally, Conner Insurance was a Top 10 finalist for the Best Places to Work in Indiana in 2014, 2015, 2016, and 2020. Ben has also been recognized by BenefitsPro magazine as a finalist for the 2020 Broker of the Year award and in 2019 by Employee Benefit Adviser as a Rising Star in Advising, which are both national awards programs for advisors who are making a difference in the benefits consulting field. Ben was a Board Member and President for a local household goods moving company, Jay's Moving, from 2008-2019. Jay's was recognized in 2018 as a FAST25 Company by the Indianapolis Business Journal, which recognizes the 25 fastest growing companies in the Indianapolis market.
Ben lives in Fishers, IN with his wife, Alyssa, and their three children. Ben loves to read, play/watch sports, travel, and spend time with his family.
"