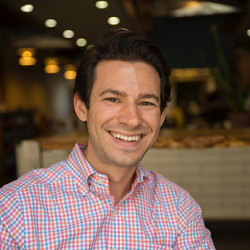 Adam Berkowitz
Benefits Advising
Founder / President, Simpara
Adam Berkowitz's belief that the most important asset businesses have to manage is their people, and a desire to create an agency founded on that principle, led him to launch Simpara in October 2016. After spending nearly a decade within the benefits field it had become clear to him that employers needed a more efficient way to deliver first class benefits to their people without excessive cost or heavy administrative burden. "I wanted to create a better way," says Berkowitz.
Berkowit's passion for helping people is contagious and he is providing the very best opportunities for clients to enhance engagement, promote health, and untangle the complex issues that accompany modern healthcare systems and regulations. "We offer solutions that allow employers to be excited about benefits for the first time. I like to think that a few years from now that will be the baseline expectation across the market."
Adam was a 2015 St. Louis Business Journal 30 under 30 honoree. He's an active member of the Webster Groves Chamber of Commerce, Human Resource Management Association, and Missouri Venture Forum. Adam's passion for the Saint Louis community shines through his involvement in Jazz St. Louis, chairing the Young Friends of Jazz and sitting on the Jazz St. Louis Board as well as serving on the Young Friends Council of the Missouri Botanical Garden. He lives in St. Louis with his wife, Maggie; son, James; and rescue pit bull, Jojo.