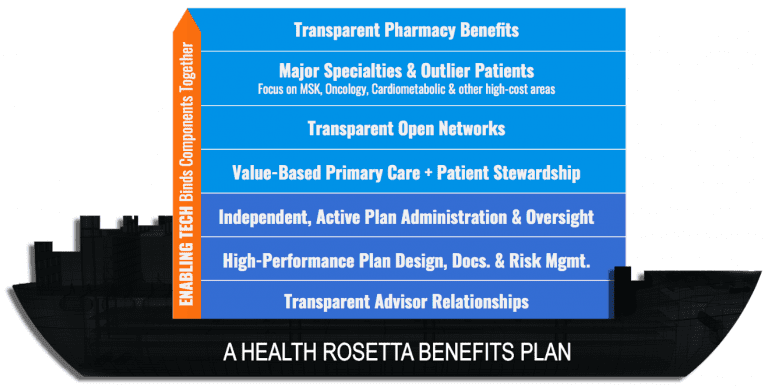 Separate from the components themselves are Health Rosetta Strategies. These are specific strategies, solutions, tactics, and approaches that typically cross various components, e.g. data proficiency, reference-based pricing approaches, out of network claims settling, medical tourism, plan debundling, etc. They are more about how to get to the results sought by a component than a component themselves.
The lines between Health Rosetta components and strategies can get a little soft, but that's the nature of emerging categories. The Health Rosetta component, subcomponents, strategies, and even the overall taxonomy will evolve over time.
Certification programs are built around the Health Rosetta. The Health Rosetta aggregates success stories, which the ecosystem codifies into best practices and metrics. Health Rosetta then creates certifications for people, products, services, and places that simplify adoption of Health Rosetta Components by benefits purchasers. Over time, we will certify an entire new health ecosystem of modules that can be flexibly implemented by benefits purchasers to fit their needs. It's a very long term approach to remove the complexity of high-performance benefits and health care generally, ultimately making health care's underperforming status quo irrelevant.