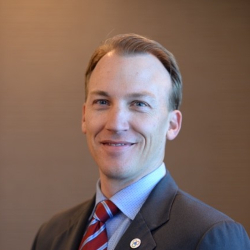 Sterling
Oaks
Benefits Advising
Area Senior Vice President, Gallagher
Sterling Oaks is a native of Utah and currently serves as Gallagher's Area Senior Vice President in Salt Lake City, Utah. He is the first Health Rosetta Advisor located in Utah and as such appreciates the importance of the Health Rosetta mission. He is currently in his 20th year consulting for employers of all sizes, but enjoys helping clients take apart health plans in a self-funding environment in order to maximize quality of care and minimize cost for employers nationwide. Among his many accolades, Sterling has been recognized as a top performer within Gallagher from 2008-2020 as well as by insurance companies within the Intermountain West. In addition, he was named as a top 10 producer nationally for Gallagher's Health and Welfare Division in 2012 and 2016, and top three producer with international employee benefits in 2016. He enjoys working with large companies and is often asked to speak about U.S. insurance and regulatory topics throughout the region. Sterling has a relationship as a trusted advisor with his clients and is an expert in implementing creative solutions for cost containment on all employee benefit plans (health, dental, vision, life and disability etc.), healthcare reform & general compliance, employee retention, and risk management.
He began his career at Intermountain Financial Benefits (IFB) where he quickly developed aptitude for strategy, and negotiation within all types of employee benefits. Later, while holding management roles within the company, Gallagher acquired his office in 2007 and he continued to acquire a wider expanse of expertise within many diverse aspects of health and welfare plans including plan design, benchmarking, wellness, self-funding, productivity programs, health savings accounts, employee advocacy, communications, and benefits administration technology.
Sterling believes in giving back, serving as Draper Emergency Preparedness Representative, advisor for the Utah Diaper Bank, Stella Oaks Foundation for Single Parents, as well as volunteering weekly as a cellist in the Orchestra at Temple Square. When Sterling is not working, he enjoys traveling, playing music and spending time with his wife, Amanda and their five children.
Sterling graduated from Brigham Young University with dual degrees in Business Management and Cello Performance.