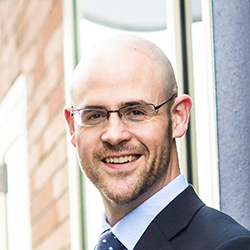 Ryan Schmid
Care Delivery
CEO of Vera Whole Health and value-based primary care expert.
Ryan is the Co-founder, President and CEO of Vera Whole Health, which contracts with companies to build and operate dedicated on- and near-site primary care clinics for their employees. Vera was named one of Washington's 100 Best Companies to Work For by Seattle Business Magazine, and serves such groups as Seattle Children's Hospital, The Bill & Melinda Gates Foundation, Virginia Mason Medical Center, City of Kirkland, Anchorage School District, and the Northern Arizona Public Employee Benefit Trust.
Ryan is also the co-founder and former Chairman of the Board for Hope Central Pediatric and Behavior Health Clinic, a nonprofit organization that offers primary and wellness care to people in low-income areas. And finally, he's the co-founder of Rainier Health and Fitness, a nonprofit fitness center also for people in low-income areas. Ryan was recognized as one of the Puget Sound Business Journal's 40 under 40 in 2013.
Ryan earned his B.S. in Business with a focus on Entrepreneurship and Management from the University of Oregon in 2001, graduated Magna Cum Laude, was awarded both the Entrepreneurship and Management student of the year awards, and was a Rhodes Scholar state finalist. He was also a four-year letterman on the University of Oregon football team (which won four consecutive bowl games), and was awarded Most Inspirational Player, Scholar Athlete and Academic All-American in his senior year.
Ryan received his MBA from Seattle University in 2007 with a certificate in Entrepreneurship. He was a Distinguished Graduate recipient and was awarded the Alber's Service award and the McGowan Scholarship, and received the Outstanding Recent Alumni award from Seattle University.