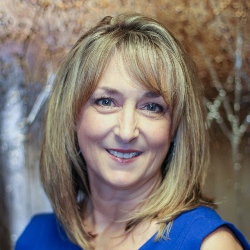 Nancy J. Giacolone
Benefits Advising
President & Owner, Olympic Crest
Nancy Giacolone is President and Owner of Olympic Crest Insurance, which she founded in 1995 and is located in Gig Harbor, Washington. Nancy is a fiercely independent agent who has refused to "sell out" in order to maximize her profits over the well-being of her clients. Her son, Nick joined the firm in 2015 and he is committed to the same principles.
Olympic Crest Insurance has always focused on improving the healthcare experience for our clients, both employers and employees through the use of innovative technology, progressive products, and exceptional customer service.
Nancy has served as past president of her local chapter of Health Underwriters, lead several Junior Achievement teams to National Championships, is active in many local Chambers of Commerce and other community organizations.
Outside of work, Nancy loves to cook, explore photography, spend time with her husband, Jim and their three German Shorthaired Pointers. She has recently become a runner and participates in many local events with Jim & Nick.