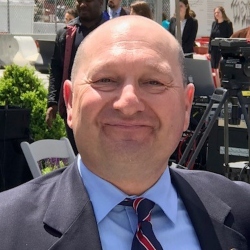 Michael B. Uretsky
Benefits Advising
Senior Vice President Group Products Director, Eastern Benefits Group, LLC
Michael has over 30+ years of experience in the Employee and Executive Benefits Business. Michael currently directs and coordinates all new business development and group product solutions for Eastern Benefits Group as the Group Products Sales Leader since 2013. In addition, Michael serves on the Division's executive leadership team where he helps create and support the Division's strategic objectives, and introduce innovative client focused products and services; such benefits administration that works with payroll, data analytics, defined contribution private exchange platform and direct primary care solutions for employees. Michael's unique combination of knowledge and expertise in traditional group benefits, the evolving consumer voluntary benefits market place, and executive benefits, helps our sales executives and service staff uniquely serve our clients by helping them quickly identify gaps and integrate customized solutions across the entire Eastern platform.and strategic partners.
Michael began his career at Eastern in 2004 as a Sales Executive and quickly emerged as an Eastern perennial sales leader. He contributes to the local health insurance carrier broker advisory boards as well as The Commonwealth of Massachusetts Connector Broker Adivsory Board. He is a graduate of Williams College, B.A. Honors, and Noble and Greenough School, where he was inducted into the Nobles School Athletic Hall of Fame in 2010. Michael is proven leader in his community, and also serves as the Co-Chair of Eastern Bank's Military Veterans and Families Employee Network since 2013.
We help businesses control employee benefit plan costs and manage their risks. We invest in talented people, client focused technology solutions and deploy a definable service model. We customized our engagement to the unique strategic needs and objectives of every client.
I am proud to work with such a committed, professional network, sales associates and service team. I have had the pleasure of working along side many of my associates and network professionals for over 20+ years .
I am looking forward to connect with you.