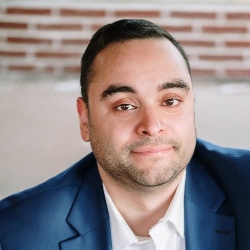 Joe
Baldwin
Benefits Advising
Employee Benefits Consultant, SevenHills Cleveland Benefit Partners
Joe Baldwin is an Employee Benefits Consultant with SevenHills Cleveland Benefit Partners, based in Bloomington, Minnesota. Joe works closely with business leaders and decision makers to strategize ways they can maximize the return of their considerable investment in health care. He focuses his efforts on employers who are looking to attract and retain millennial talent but finds these solutions fit great for all employer demographics.
Joe began his career in the insurance industry in 2014 with a regional managing general agency where he was responsible for writing business and developing relationships with more than 2,000 brokers and agents. His expert product knowledge and years of experience working in a sales environment enable him to provide the best customer experience to his clients.
Joe graduated from Metropolitan State University with a degree in African American Studies. While in college full-time he also held three jobs. Immediately after college he worked for Junior Achievement and coached High School Girls' Basketball at the Convent of Visitation before making his way into the insurance industry. He is an Ambassador for the Saint Paul Area Chamber of Commerce, an organizer of 1 Million Cups Saint Paul and still volunteers for Junior Achievement.
Joe, his wife, and son reside in the Mounds Park neighborhood of Saint Paul which they consider a "hidden gem". He thoroughly enjoys soul music, cooking, a good book, movie, or T.V show as well as playing basketball and golf when he has spare time.