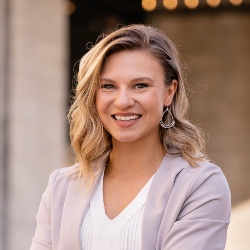 Jessica Du Bois
Benefits Advising
VP, Benefits Consultant, Risk Strategies
Jessica Du Bois is an employee benefits advisor and consultant for Risk Strategies. Jessica works with companies to modernize their employee benefits by focusing on user experience and cost containment. She tailors her consulting services with the client in mind, allowing for complete customization. She can act as a year-round broker or work on special projects such as transitioning from a PEO or moving to a self-funded health plan. Jessica is driven by her passion to help organizations prosper and attract top talent by creating a people and purpose-focused benefits program.
Jessica was named a 2019 "Face of Change" by BenefitsPro magazine, highlighting advisers who are making their mark in the benefits industry. She has been featured as a speaker at the HumansFirst DC Experience, the BenefitsPro annual conference, HeadsUp Adviser, BBG's spring seminar on Humanizing the Workplace, and various workplace culture and benefits-focused podcasts.
Jessica is an active member of many organizations in the Washington DC region including HackingHR, LeanIn, Ellevate, Title Boxing Club, the Washington Networking Group, and the Women's Center.