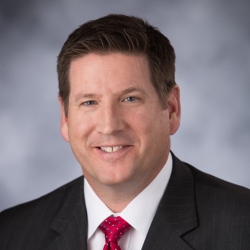 Bradley
Smith
Benefits Advising
Brad leads Lockton's Omaha location as Senior Vice President of health and welfare. He is a proven leader in the insurance industry, having over 20 years experience in helping employers achieve the highest performing and cost effective benefit programs. Brad is a Nebraska native and is active in the community.
He is a client advocate and relationship manager who is heavily involved in guiding the overall strategic direction of clients' insurance programs. This includes areas such as data driven analytics, actuarial forecasting, assessment of employee population and benchmarking, health reform and compliance, pharmacy analytics, technology and human resource expertise, employee compensation, cost sharing strategies and executive benefits.
Brad and his wife, Andrea, are the parents of three children, Chandler, Isaac and Keaton. Other activities have included volunteer youth sports coaching, and a former mentor in the Big Brothers/Big Sisters organization. Personal interests include family vacations, golf, biking, skiing and hunting.
Senior Vice President, Lockton Companies