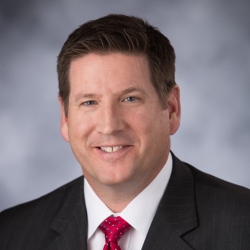 Bradley
Smith
Benefits Advising
Brad Smith, RHU – Senior Vice President, Lockton Companies
Previously, Senior Vice President, Licensed consultant, HIPAA Privacy Officer and Manager of INSPRO's Benefits Division.
Brad began his insurance career in 1989. Much of his time as an Employee Benefits Consultant/Broker has focused on mid to large size employee welfare benefit plans, both fully insured and self-funded. Brad is a graduate of Peru State College, NE with a Bachelor of Science degree in Business Administration and Management.
His responsibilities include oversight of the INSPRO Benefit Division, sales production, consulting and client retention throughout all 6 INSPRO offices, in Nebraska and Iowa. In 2015, he was named INSPRO Producer of the year. Brad was named to INSPRO's Executive Council Committee in January of 2016. He serves as Legislative Chair, a Board of Directors position of the Omaha Area Health Underwriters and active on Capitol Hill in Washington D.C. meeting with NE Congressmen & Senators on issues related to the Affordable Care Act & Healthcare in general. He serves on the Nebraska Board of Directors for Phi Beta Lambda business fraternities, as well as two Board positions for Peru State College -the Alumni Association and Athletic Hall of Fame committee.
Brad and his wife, Andrea, are the parents of three children, Chandler, Isaac and Keaton. Other activities have included volunteer youth sports coaching, and a former mentor in the Big Brothers/Big Sisters organization. Personal interests include family vacations, golf, biking, skiing and hunting.
Senior Vice President, Lockton Companies