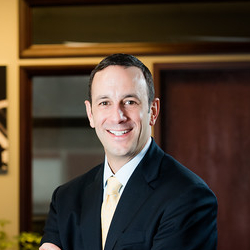 Aaron M. J.
Marinelli
Benefits Advising
Aaron attended St. Ignatius High School in Cleveland, Ohio and went on to study Philosophy and Psychology at John Carroll University.
After his graduation in 2000, Mr. Marinelli entered the Insurance Industry joining Todd Associates, Inc. becoming a Vice President with the company. In 2007, Mr. Marinelli entered into a business partnership at Chapman and Chapman becoming a Principal. In 2012, Aaron became the first non-family member shareholder of Chapman and Chapman since the company's founding in 1886 and serves as the President of Chapman and Chapman.
Aaron has earned his Life, Health and Welfare License as well as his Securities License becoming consultant and broker in both arenas. He now has more than 18 years of experience in benefits risk management and retirement plan management specializing in the technical aspects of both of his disciplines. Specifically, Aaron develops strategies to support the design, structure, and implementation of Corporate Benefit and Retirement Programs. He is currently a member of the National Association of Health Underwriters and has recently been awarded the association's prestigious Soaring Eagle Award. The Soaring Eagle Award is the highest honor given by LPRT to recognize National Association of Health Underwriters members who have achieved the greatest success in demonstrating exceptional professional knowledge and outstanding client service. Aaron was one of the first in the country to be recognized by the National Association of Health Underwriters as an expert in Health Care Reform. He continues to spend time in Washington D.C. with the directors of the federal agencies that interpret and implement the Affordable Care Act including the Department of Labor, the Department of Treasury, and the Department of Health and Human Services among others. Aaron is regularly asked to speak and consult on the Affordable Care, Health Risk Funding including consortia and captives, and Population Risk Management both locally and nationally.
During this time Aaron has also acquired and rehabilitated property in the City of Cleveland and its suburbs being acknowledged for his work to beautify the City. He has used some of his properties to assist Migration and Refugee Services of Catholic Charities in the relocation of refugees from Somalia, Kenya, and other war ravaged border areas around the world.
Aaron has been active in several community organizations throughout the years, including Shanerock (Executive Board), The City Club New Leaders, St. Ignatius High School, John Carroll Magis Advisory Council, West Side Catholic Center (Former Executive Board Chair), Family Transitional Housing (Former Executive Board), The Leadership Society at Playhouse Square, Family Fit Foundation (Former Advisory Board), Chagrin Athletic Association (Executive Board), and The City of Cleveland Detroit/Shoreway Rejuvenation Program.
Aaron lives in Moreland Hills, Ohio with his wife Stacy and their four children and is also heavily involved with youth sports, the arts, and school activities for his children and the children of the community.
CEO | Co-Founder, Magis Advisory Group